UK data show increased mortality in vaccinated compared to unvaccinated
All-cause mortality and COVID vaccination cause for concern
Posted by
David Heller
David Heller
Senior Researcher
David analyzes the conventional view and delivers clear fact-based articles
When the new vaccines against COVID hit the market, one thing was made clear; the vaccines protect against serious cases of COVID including hospitalizations and deaths. 
The clinical trials did not claim the vaccines reduced infections or transmission of the virus. Some may be still surprised about this, but with over a year of data, this point has become clear. 
But advocates were quick to point out the vaccines provide good protection against hospitalizations and death. So, while one need not take the vaccine to protect others, it is still recommended to protect oneself. 
Incredibly, the original studies that were conducted to get regulatory approval did not examine all-cause mortality. Rather, they looked only at mortality from COVID, since that was what they were designed to reduce. In fact, the vaccines showed a reduction in COVID deaths. 
But what about all-cause mortality? Could it be that the vaccines reduced deaths from COVID but increase deaths from other causes? This question led to much speculation and was reinforced by careful examination of the Pfizer trial report (page 23).
The report showed that after 8 months of study, there were 21 deaths in the vaccinated group and 17 in the unvaccinated group. Indeed, there were more deaths from the vaccine group than there were in the placebo group. Not by much, just about a 22% relative increase, but since this was just below being statistically significant, and the report did not consider the deaths to be caused by the vaccine, the case was closed.
Earlier this month, a study made available as a preprint in The Lancet compared the mRNA vaccines (Pfizer and Moderna) to the adenovirus-vector (AstraZeneca and Johnson & Johnson) vaccines to examine how they differ regarding adverse reactions. In the introduction, the paper states, ". . . it has now been established in numerous studies, [that] vaccines may have completely unexpected effects on overall mortality."
And that "The placebo-controlled RCTs of COVID-19 vaccines were halted rapidly due to clear [positive] effects on COVID-19 infections."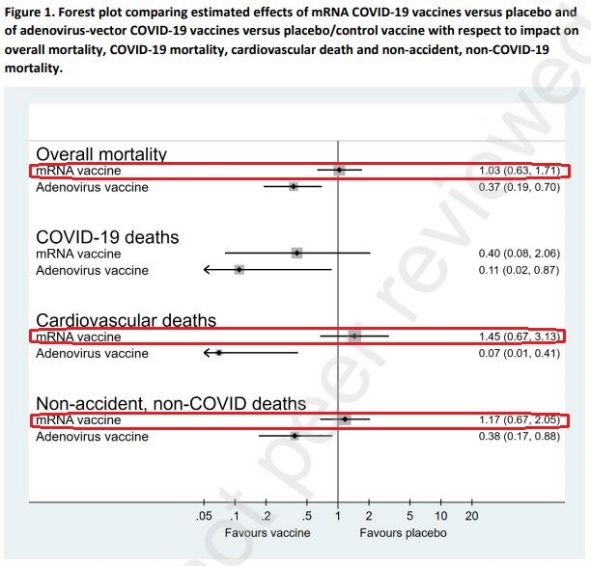 Source: https://papers.ssrn.com/sol3/papers.cfm?abstract_id=4072489
The data showed that participants who received the mRNA vaccine had more cardiovascular deaths, non-accidental deaths, and all-cause deaths compared to the placebo groups after examining nine randomized-controlled trials (RCTs). 
If not for the lives the vaccines saved in COVID deaths, the mRNA vaccines would have killed more people than they saved. This is important since many people taking the mRNA vaccines are at low risk of dying from COVID.  
It was noted in the conclusion that most of the wealthier countries chose the mRNA vaccines, which were connected to higher mortality. The authors concluded by saying that "this could turn out to be a very costly decision, both economically and health-wise."  
Real-world data      
Can the observation that the mRNA vaccines potentially cause more deaths than they save be seen in real-world data?
The few observational studies that examined the issue found that vaccination was associated with reduced overall mortality, so there was nothing to fear.
These studies were conducted in the first six months of the vaccination campaign, but it seems things have changed. 
The Exposé presented data from the UK's Office of National Statistics comparing all-cause mortality from the start of the vaccination campaign in January 2021 to January 2022 and found a surprising difference.

Source: https://dailyexpose.uk/2022/04/20/analysis-gov-data-finds-covid-vaccination-increases-risk-death/
Vaccinated individuals in January 2021 were dramatically more protected against all causes of death compared to the unvaccinated. But by January 2022, vaccinated individuals who did not receive a booster were dramatically worse off compared to the unvaccinated.  
Perhaps it is just a statistical anomaly in January's data. So, The Exposé charted the data over the course of 2021 to see when this change occurred.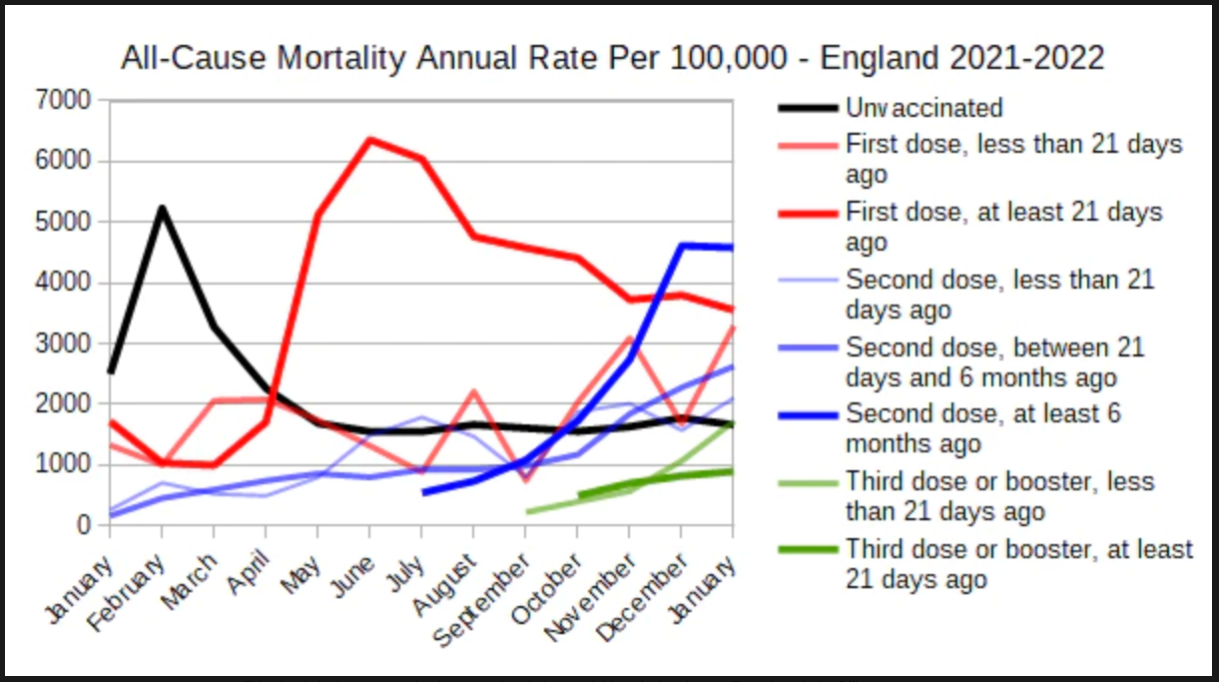 Source: https://dailyexpose.uk/2022/04/20/analysis-gov-data-finds-covid-vaccination-increases-risk-death/
According to the above graph, during the months of October and November, the picture started to change – unless the vaccinated received a booster they would be more likely to die than if they took no vaccine at all. And the situation was much worse for those injected with just one dose (red lines).
While it makes sense that a booster shot would lower the risk of death, it is concerning that the two-dose vaccine was associated with higher mortality than no vaccine at all. This may be a good reason to take a booster, but it is also concerning that hundreds of millions of people are now at greater risk of death just because they got vaccinated.
Before drawing a conclusion it's imperative that the analysis be broken down by age range since that's a key indicator of COVID mortality and of vaccination uptake. If age is ignored, it is possible the unvaccinated are dying less because they tend to be younger, and younger people generally have much lower mortality.   
The following graphs show all-cause mortality per 100K for different age groups: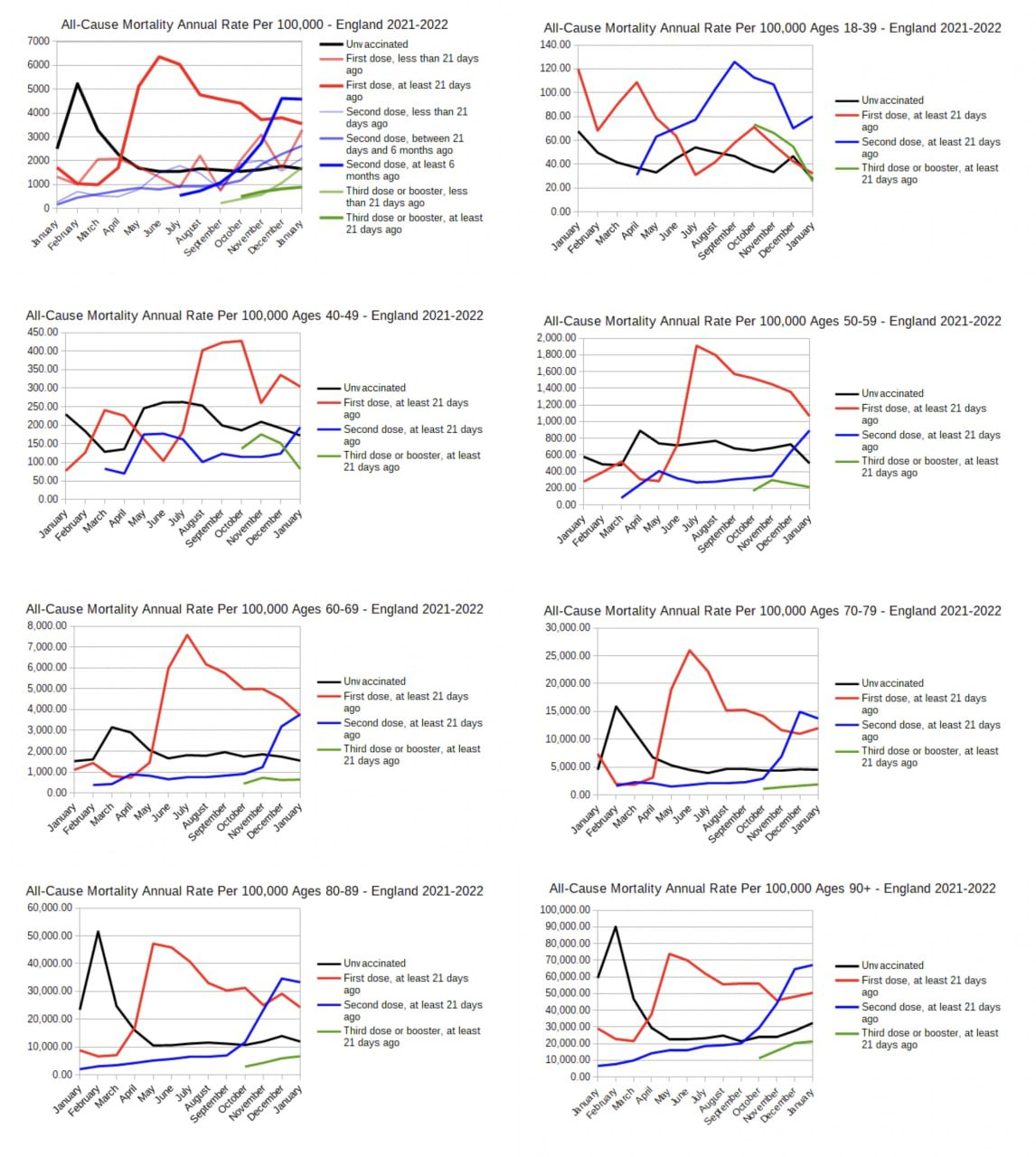 Source: https://dailyexpose.uk/2022/04/20/analysis-gov-data-finds-covid-vaccination-increases-risk-death/
Across every age group, without exception, by January 2022 the death rate among the double vaccinated was higher than for the unvaccinated. 
It is still possible that the unvaccinated in each group happen to be healthier, or less prone to death than those who were vaccinated, and for that, a more in-depth study would need to be conducted.
Data further into 2022
The Office of National Statistics only provided data through January 2022. No data on all-cause mortality in the UK by vaccination status is available past January 2022. 
Since we've seen earlier that mRNA vaccines in particular save lives overall only because they reduce COVID deaths, but otherwise would increase deaths, a look at the vaccines' effectiveness on COVID deaths should give us insight regarding all-cause mortality. If the vaccines don't protect against COVID deaths, then all-cause mortality would be higher among the vaccinated.  
The UK Health Security Agency provides weekly surveillance reports on COVID related deaths and vaccination status.
The Exposé analyzed data from January to the end of March (Week 5, Week 9 and Week 13) and discovered the following: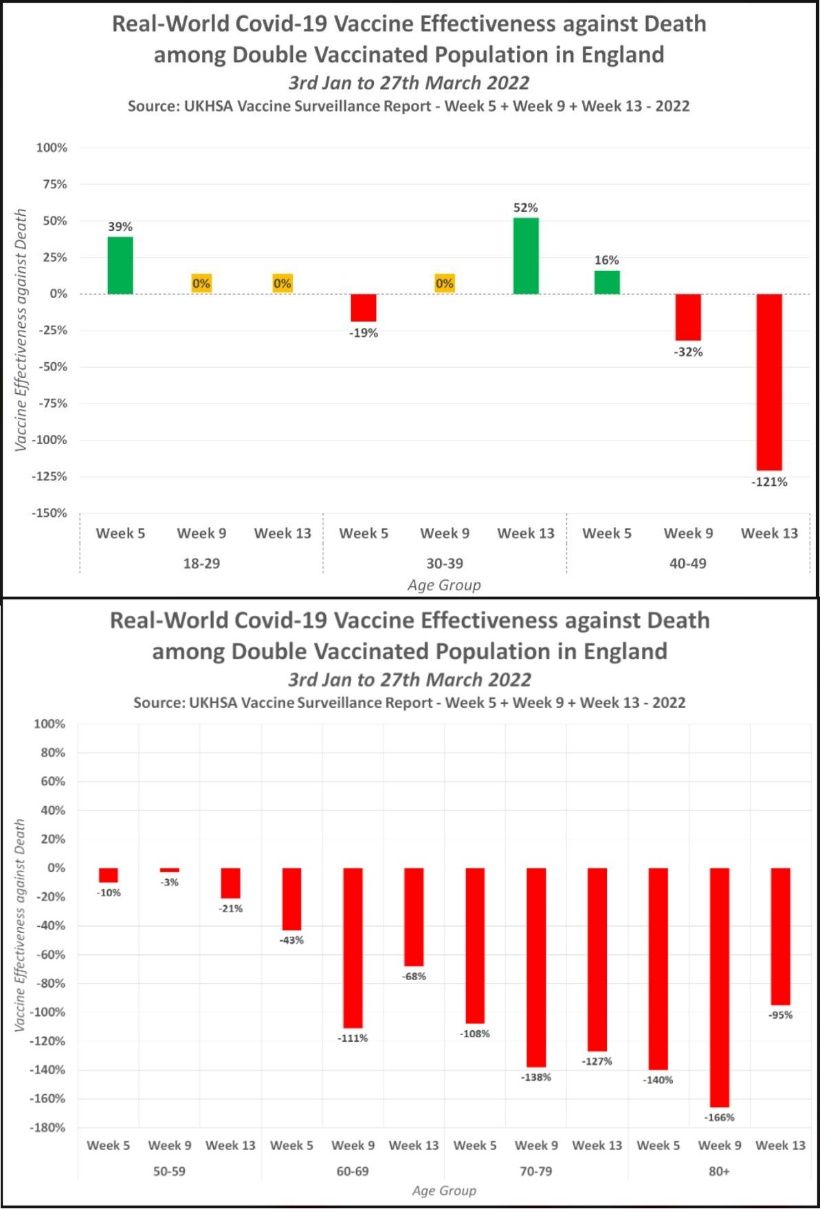 Source: https://dailyexpose.uk/2022/04/24/gov-report-fully-vaccinated-suffering-ade-since-new-year/
In all ages over 40 years old, the unvaccinated are less likely to die from COVID than the double dose vaccinated.
If the vaccine was just ineffective at protecting against COVID related deaths, then the death rates would be about the same. But the charts clearly indicate that the vaccines provide no protection without the booster.  Moreover, they provide negative protection.
This is very similar to what we saw regarding vaccine effectiveness against COVID infections. The original studies did not show, or even look for vaccine protection against COVID infections. And as time went on, it became clear that the vaccine not only did not protect against infection but was associated with increased infections.
Having a greater risk of developing a COVID infection may be an acceptable price to pay if the vaccine protects against serious illness and death, but if the vaccine is associated not only with more infections but also more deaths, of what value is it?
Based on several RCTS, and months of real-world data, the evidence suggests that the COVID vaccines are currently associated with more deaths than lives saved.