Permanent vaccine passports as tradeoff for unmasking kids?
Government fuels same conspiracy theories it attacks
Posted by
Eliyahu Tulshinski
Eliyahu Tulshinski
Writer and Teacher
Focusing on the influence of socialism on public health policy.
Just as much of the United States population was celebrating the decision of CDC "to ease COVID guidelines," Forbes has shaken many Americans' expectations for the future with a report that, "A National Vaccine Pass Has Quietly Rolled Out – And Red States Are Getting On Board."
Return to normal?
The Guardian claims that hopes for participation of American truck drivers in a convoy to support Canadian truckers protesting Canadian mandates fell flat specifically because of the return of many freedoms to the population.
"Most US states have also already rescinded many pandemic restrictions. The Centers for Disease Control and Prevention (CDC) announced last week they would lift their recommendation for many Americans when it came to wearing masks. Now most Americans live in places where healthy people, including school kids, can go mask-free."
Or not so fast?
The Hill reported, though, that CDC Director Rochelle Walensky has left the door open for reintroducing restrictions which are now being lifted.
"We want to give people a break from things like mask-wearing when … metrics are better, and then have the ability to reach for them again should things worsen," said the CDC director. [Emphasis added].
In some cases, blanket restrictions are not even being suspended but are merely being targeted to specific parts of the population. The Epoch Times reported, for example, that the CDC "is no longer requiring students and others on school buses to wear masks, but is keeping the mask mandate for all other forms of public transportation in place." 
Twist to an ancient parable?
A traditional Jewish parable teaches the lesson that a wealthy person is one "who is happy with his lot".  Adapted into the picture book, "It Could Always Be Worse: A Yiddish Folk Tale", the parable tells the story of a large family living in one cramped room. Each time the family asks the local rabbi for help, he advises bringing various types of farm animals into the house. After things get perpetually worse, the rabbi instructs the family to remove all the animals and they suddenly feel like they have a spacious home.
 In that parable, the family returns to the exact same situation they had before the intervention, albeit with a new appreciation for their original predicament. In a modern day twist to the story, however, the populace is supposed to feel relief with a partial return to what was in pre-COVID times.
In a nation where the Rural Electrification Administration (REA),  created in 1935, still receives hundreds of millions of taxpayer dollars annually, one could be forgiven for suspecting that the government will not easily give up its new COVID compliance programs.
And while government agencies like the UK Home Office fund studies on "Understanding Conspiracy Theories", they may better serve the public by simply reading the Forbes article for free. 
Never going back?
Forbes opens with the ominous observation that, "Even as the omicron variant loosens its grip on the world, destinations continue to require travelers to show proof of vaccination. 
"And, increasingly, a paper CDC vaccination card is not cutting it …a national standard has … emerged.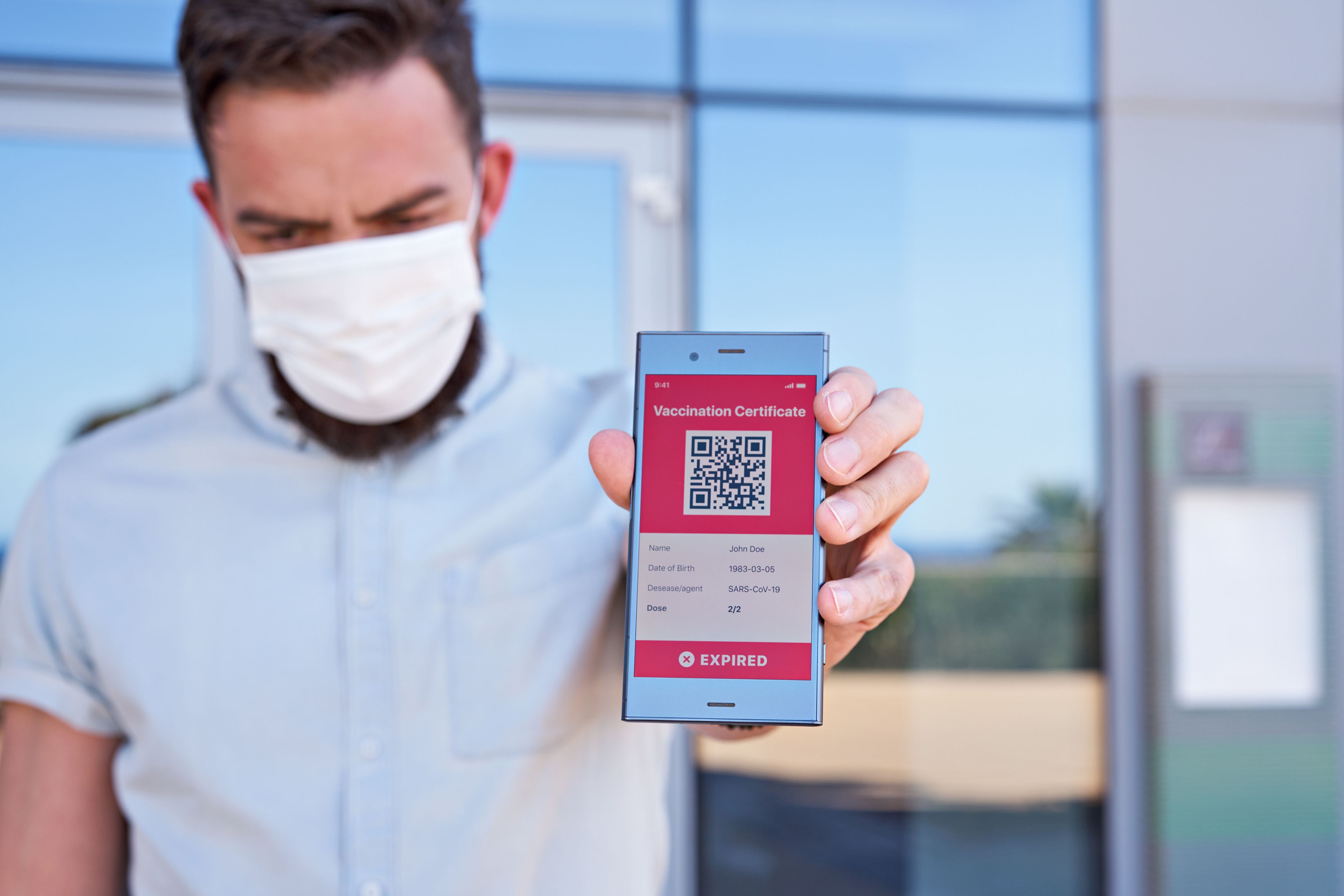 "To date, 21 states, the District of Columbia and Puerto Rico offer accessibility to the SMART Health Card, a verifiable digital proof of vaccination developed through the Vaccination Credential Initiative (VCI), a global coalition of public and private stakeholders including Microsoft, Salesforce, Oracle, the Mayo Clinic and other health and tech heavyweights.
"And very soon, at least four more states will be rolling out access to SMART Health Cards."
Because more 'once in a century' plagues are 'inevitable?'
Forbes explains the official reasoning behind the move to expand emergency restrictions on the movement of healthy people even as the current coronavirus "variant loosens its grip on the world", 
"… having a vaccine verification system in place prepares the U.S. for the next coronavirus variant as well as the inevitability of a future pandemic …
"Vaccination verification will be increasingly important at an international level," VCI co-founder [Dr. Brian] Anderson says.
What Anderson doesn't explain is why he's so sure that an event like the Spanish flu, which did not take place for the hundred years following the end of that pandemic, should now repeat itself on a regular basis.
Indeed, AFLDS previously reported on the curiosity surrounding Dr. Anthony Fauci's confident 2017 prediction of an imminent pandemic despite the fact that "the unique environment in which the Spanish flu found its virulence is not likely to be repeated in a world free from food rations, carpet bombings, and millions of soldiers sleeping in frozen, mud-filled bunkers in the snow and rain."
Reaction
Not everyone agrees with Forbes' positive attitude to the spreading use of SMART Health Cards and their QR codes. 
Twitter user Michael Rectenwald, Ph.D.: Trucker sarcastically notes, "The 'SMART Health Card,' says Forbes, 'empowers the individual.' That's right--giving the state & corporate state agents the power to control your mobility 'empowers the individual.'" 
 User Richard Wellings is no less concerned by this development, charging, "A police-state vaccine passports system is gradually being extended in the U.S. and many of its vassals - and it looks like they're going to use the 'threat of future pandemics' as a pretext to make it permanent."